Sample Letter of Recommendation For Employee
The reference letter below is written by a manager, in support of an employee who is applying to graduate school. it can also serve as a Sample Letter of Recommendation For Employee, sample letter of recommendation for a former employee, sample letter of recommendation for hard working employee, writing a letter of recommendation for an employee sample and free sample letter of recommendation for former employee. 
Need help with your reference letters? Check out our Letter of Recommendation Writing Service
Sample Letter of Recommendation
To Whom It May Concern:
I am glad to have this opportunity to recommend Jane Smith to your school. Miss Smith has worked as an Engineering Assistant at Goodwell Semiconductor Manufacturing Company for the past year and a half, and as her supervisor and Vice Manager, I can attest to her diligence and capability to set goals and achieve them.
As an Engineering Assistant, Miss Smith assisted in the conduct of engineering design as well as managing small projects and collaborating with her colleagues to prepare statements and monitor project schedules. Her role as Engineering Assistant demanded that she work harmoniously with a wide range of people while commanding respect. Due to her personality, she was able to accomplish this with relative ease. She had a positive attitude when dealing with both her superiors and her colleagues, and she demonstrated the ability to manage multiple tasks and accomplish goals efficiently and according to schedule.
After spending a year and a half in this company, she has become a valued member of our company. Although I would be pleased to have her remain in our company, I feel that she is well-prepared to undertake graduate study overseas, and I am proud to see her challenging herself further. Based on my personal observation of her professional work ethic and her engaging personality, I believe that she will be a valuable addition to your institution. I therefore recommend her for admission without recommendation.
If you should require further information about Miss Smith, please feel free to contact me and I would be glad to provide it.
Sincerely,
Dave Johnson
Vice Manager
Goodwell Semiconductor Manufacturing Company Ltd.
Tone: While all recommendation letters should always be written with honesty and care, it is important to write your recommendations without making them sound exaggerated or expecting. You should give a fair assessment of what you really think of the study abroad aspirant and his/her good qualities and shortcomings.
Tone: It's important not to exaggerate in a recommendation letter because it may come across as disingenuous to the study abroad committee. So, don't include superfluous information that might distract or deter from what is really being said or done when describing the student you are recommending.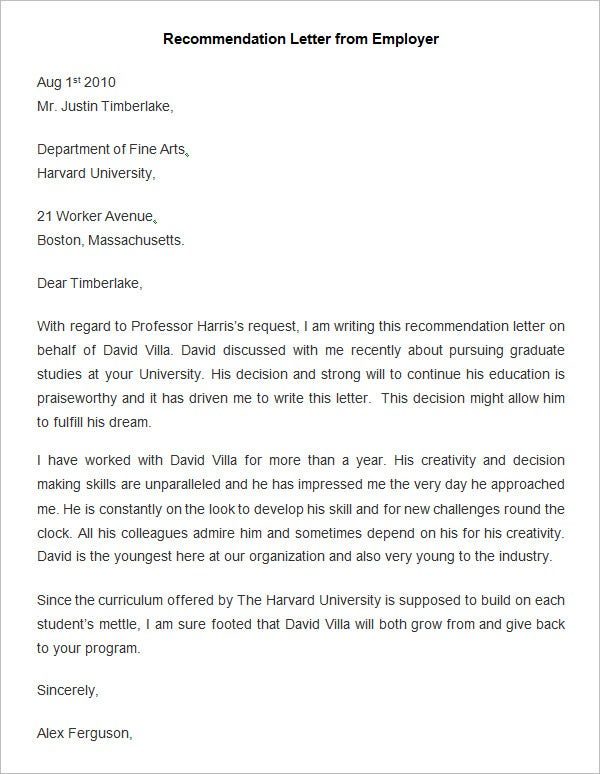 Does this Look Like Your Assignment? We Can do an Original Paper for you!
Have no Time to Write? Let a subject expert write your paper for You​